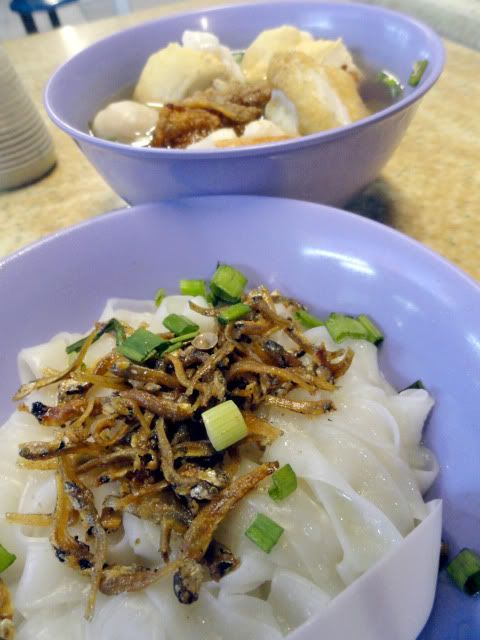 It was Chinatown Complex Food Centre for breakfast again. This time round, I managed to try the
Xiu Ji Ikan Bilis Yong Tau Fu
stall that was closed the other time I was there.
Before I begin this review/write up, I must confess that the quality of the previous few posts were lacking. Lacking in terms of the heart and soul of a true foodie and it was evident in my reluctance to update my blog as frequently as I did before.
I was losing the heart to update this blog, its not easy but the passion for cooking and the love of food was the reason I started this blog and still is the driving force behind all the food photos and posts. I was getting too concerned about this blog's traffic and envying other bloggers' invite, etc. It removed the fun and simple motive for blogging : to let others know where good food are available at. But I have since sorted out my thoughts and shall keep at blogging because I know someone out there might just be having a headache over his/her meal and I could be of great help. (:
So there you have it, my confession of a foodie. Now, back to our review.
It was quite a long wait before I finally got my bowl of dry kway teow and 7 pieces of yong tau foo as a queue was already formed when I got there. The queue was seemingly endless with patrons replacing each other as one left, another came.
Oh, and the photos are still not up to standard yet becuase I'm still learning how to use my compact camera, dreams of getting a DSLR!
There's only a choice between 7 pieces of yong tau foo with bee hoon/noodles or 9 pieces of yong tau foo for $3. You can't choose your yau tau foo items at this stall, its all fixed and if you add any additional items, there will be a charge.
The yong tau foo items are handmade everyday and it is very evident as they have 2 stalls next to each other with one side preparing the items and the other cooking and serving them.
The noodles, or kway teow in this case, stole the limelight, surprisingly. The noodles are served with onion oil and fried ikan bilis. These two items greatly enhanced the flavorless noodles into something delightful and flavorsome. I'm pretty sure I could take 2 bowls of it if I knew it was so good!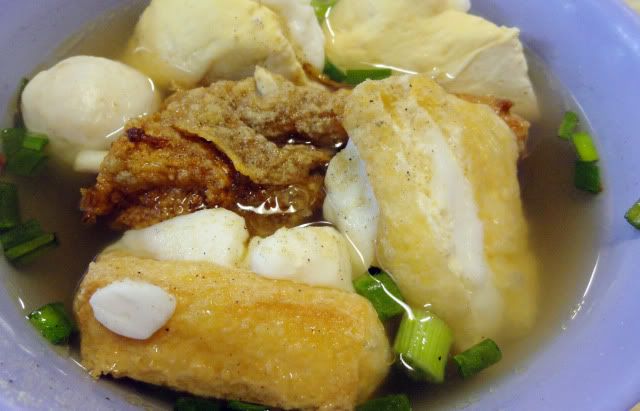 The yong tau foo was okay, the handmade items did not stand out like I thought they would though I must commend the soup for being nice, light and flavorsome.
Overall, I think it would be great if they would improve on their yong tau foo items but definitely, keep serving that bowl of dried noodles!
Xiu Ji Ikan Bilis Yong Tau Fu
Blk 335 Smith Street
#02-87/88 Chinatown Complex Food Centre
Singapore
Opening Hours: Daily 5.45am – 3pm