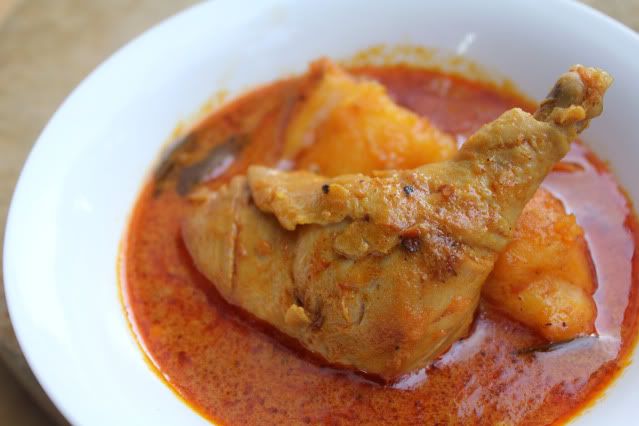 My grandma's the best cook I've ever known. Period. I suppose years of preparing food for the family or even families occasionally has turned cooking into her second nature. And thus, I strongly believe that with all that she has in her repertoire of recipes combined with the years of cooking, she has and can easily whip up a wonderful meal for us.

To be truthful, I've never really appreciated the love, effort and time that she takes to prepare every single meal for me until recently. Regretful but I've decided I shall express my gratitude by learning her different recipes and Gustatory Explorer's a felicitous place to compile and share her recipes with you.

The first recipe: My grandma's curry chicken. There ain't much dining etiquette to adhere to at home, especially when there are bowls of curry chicken and 2 loaves of baguettes on the dining table. Everyone would inelegantly rip off a piece of bread, dip it into the curry and chew on the piece of curry soaked bread. Now, that's some comfort food.




Had a wonderful time taking photos with the DSLR I borrowed from my friend yesterday though I'm currently down with gastric flu. Enough said, the curry chicken was delicious!

God Bless,




Gusatory Explorer.




Curry Chicken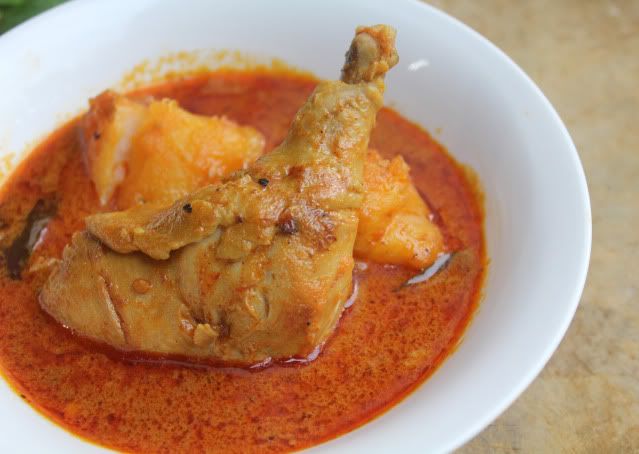 *Note: Ingredients are a rough guage and can be increased or decreased based on personal preference. Eg. More potatoes if you like potatoes or more chilli paste if you like it more spicy.


- 1 decent sized chicken (roughly 1-1.5kg) - 4 candlenuts - 1 big red onion/ 4 shallots
- 4 poatoes
- 3 big tbsp of curry powder - 4 cloves of garlic - 2-3 big tbsp of chili paste
- 7-8 curry leaves
- 200 ml coconut milk
- 2 big tomatoes
- 1-1 ½ tbsp of salt
- 400 ml of water

Mashed onion, mashed candlenuts and garlic, curry powder and chili paste. (from the left)
1. Mash the candlenuts and garlic together. Mash the onion seperately. Mix the curry powder and chili paste in a bowl. Butcher the chicken into pieces. Cut tomatoes into wedges. Set all aside.
2. Roughly chop the potatoes into 2 and fry them till they are golden brown on the outside.
3. Saute the garlic and candlenuts. Add in the onions first before adding in the chili paste and curry powder mixture and curry leaves, fry till fragrant.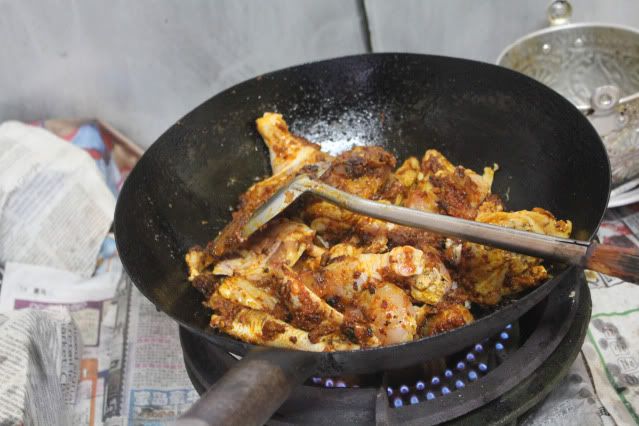 Frying of chicken with the spices.
4. Add in the chicken and continue frying for about 2-3 mins before adding in the salt and frying for another 5 mins or so.
5. Transfer everything from the wok into a large pot. Deglaze the wok with 200ml of water and add that into the pot. 6. Add the potatoes into the large pot then place the pot over med heat and wait for it to boil. Add in another 200ml of water at this point of time.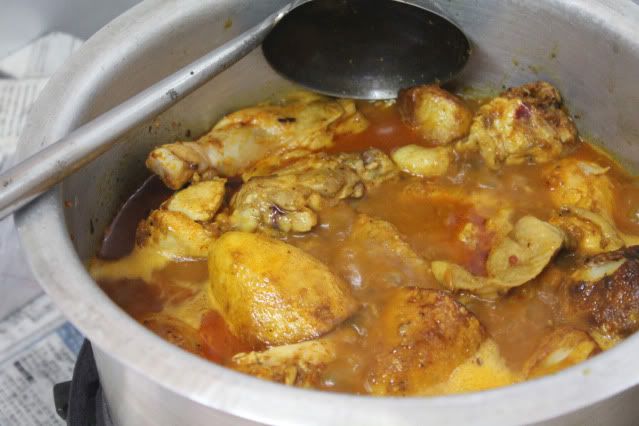 Let it boil, let it boil.~
7. When it starts to boil, add in tomatoes before covering the pot and letting it boil for about 10mins.
8. Add in the coconut milk and boil till the potatoes are soft. 9. Turn off the heat and you're done. Serve with some roti prata, bread or rice.