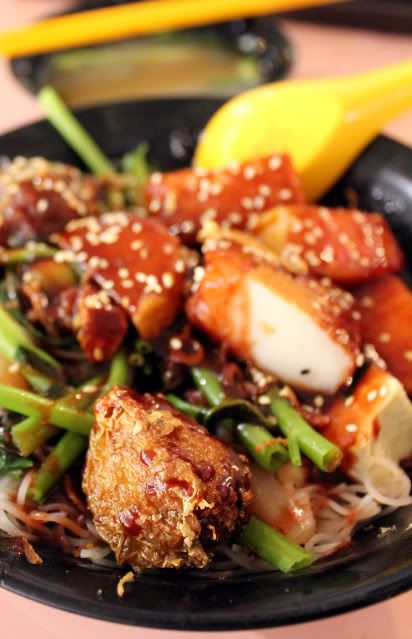 Studying makes you hungry. After hitting the books with my cousin at the library earlier on, and it was decided that we'll go to the nearby Ang Mo Kio Ave 6 Food Centre to have lunch. We did go but the original plan for me was to try the duck porridge there.
The duck porridge was always sold out or the stall was closed on the particular day I went, thus I never had the chance to try it yet. Today, was just one of those days unfortunately. Oh, wait, or was it a blessing in disguise? As a result, I chanced upon the perpetual long line of queue outside Xi Xiang Feng Yong Tau Foo stall.
Recalling my sister telling me that there was a Yong Tau Foo stall that was recommended by Dr Leslie Tay and we seem to have tried the wrong one the other time, so my mind pieced the partial memories together and there I was, plonked myself into the queue. Now, if only my mind could create links as fast as that during study time and yes this is the right stall that Dr Leslie Tay recommends. Happy as a bird was I, snapping a few pictures of the stall name, till I finally saw it.
Saw what, you may ask. I saw that customers were supposed to choose their items and placed their order before queueing up! Yup, that's how they operate here. You queue up AFTER you have placed your order. Don't make the mistake that I've made and waste 15mins of your life queueing up for nothing.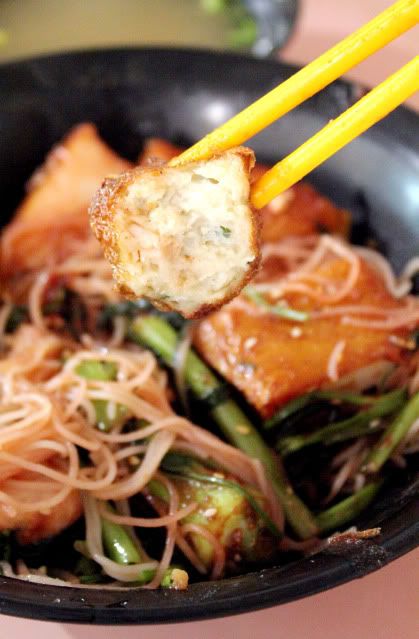 Coming back to the bowl of yong tau foo, it was deliciously satisfying. This bowl of dried vermicelli, served along with your picked items, topped with sweet sauce and sprinkled with sesame seeds justified the long wait and seemingly endless queue. It was that good.
The ingredients were fresh, the fried items were delicious, noting in particular some kind of fried flour ball they have and their fried meatball (the second picture). The meatball was chewy, juicy and flavourful - all the characteristics of an outstanding meatball. The vermicelli they used were a little different, a little flatter and thicker than the usual ones. The sweet sauce balanced out nicely on the palate, not too sweet. The small bowl of soup that comes along will help to cleanse your palate if the sweet sauce is too cloying for you after awhile. Overall, a great bowl of yong tau foo. I would certainly revisit this stall!
Xi Xiang Feng Yong Tau Foo
Ang Mo Kio Blk 724
#01-23
Open from 7am to 7pm daily
Sunday closed
96353203