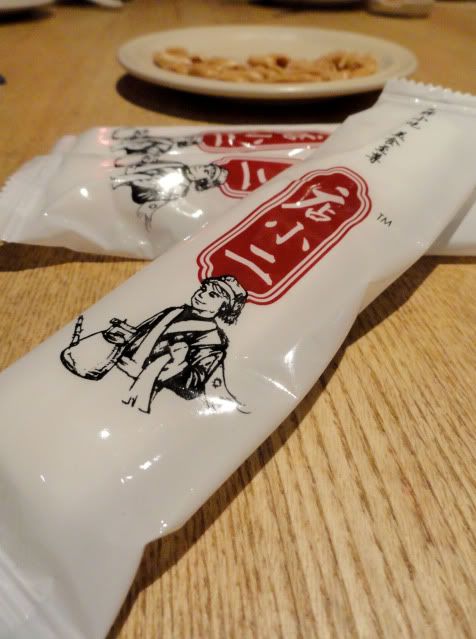 The Soup Restaurant Group operates 2 chains of restaurants, namely 'Soup Restaurant' and 'Dian Xiao Er'. It's a clever idea, really, as the former one is famed for their Samsui Ginger Chicken while the latter specializes in their roast ducks; Each of the restaurant serves up one of the two main type of poultry Singaporeans eat on a normal basis. Thus, often times, you'll find a branch of the 'Soup Restaurant' in a mall and a branch of 'Dian Xiao Er' springing up either next to it or within it's vicinity.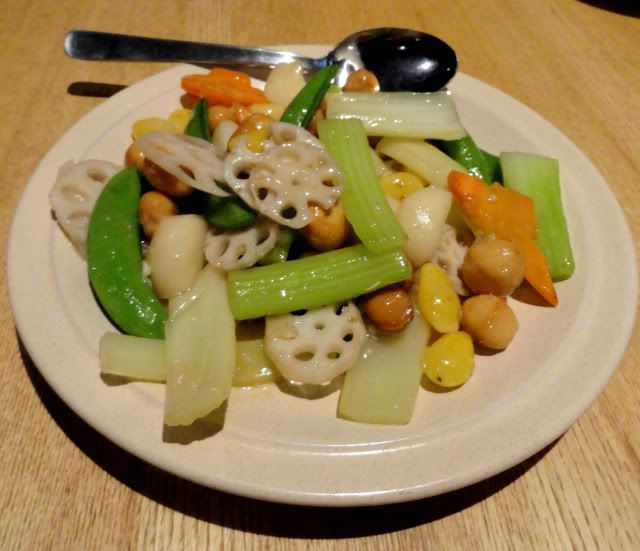 This dish of Stir Fried Lotus Root with Macadamia Nut is a great dish for all nut lovers out there. Whipped up with a variety of colourful, great tasting vegetables and a generous amount of crunchy macadamia nuts, it is visually enticing as well as gastronomically. A dish that would make nut lovers go nuts or you, the no so nut loving ones, complain there is a little too much macadamia nuts in there.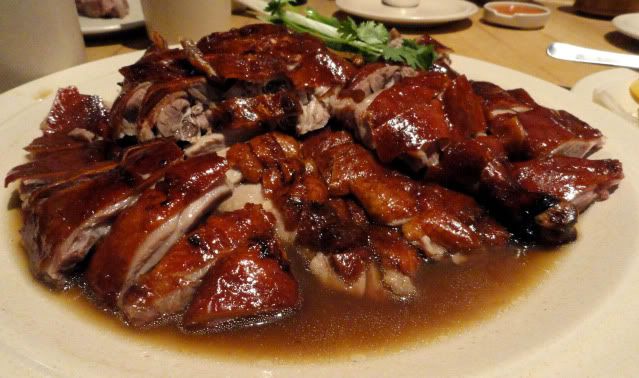 Dian Xiao Er truly serves up most of the most beautifully crisped roast duck. Look at the picture, doesn't it get you salivating? There are three choices of roast duck served at Dain Xiao Er - with Angelica Herb, Wild Ginseng or Ten Wonder Herb. The waitress told us that the wild ginseng gravy was on the sweet side while the ten wonder herb is on the savoury boundary I think. You can clarify with the waites or waitresses there.
We placed an order for the Herbal Roasted Duck with Wild Ginseng. Personally, I can't take the taste of ginseng, it just puts me off somehow. Nonetheless, I tried the duck - it was too hard to resist. There's a subtle ginseng taste and the rest is sweetness. If you're like me who can't take a hint too strong of ginseng, you can perhaps give this a try, it's not that strong.
The roasted duck was delicious, with its succulent flesh except for its not very crispy skin and I blame the gravy for that. A pity, I feel, that the skin is not as crispy as it appears to be after the gravy is drenched over the duck.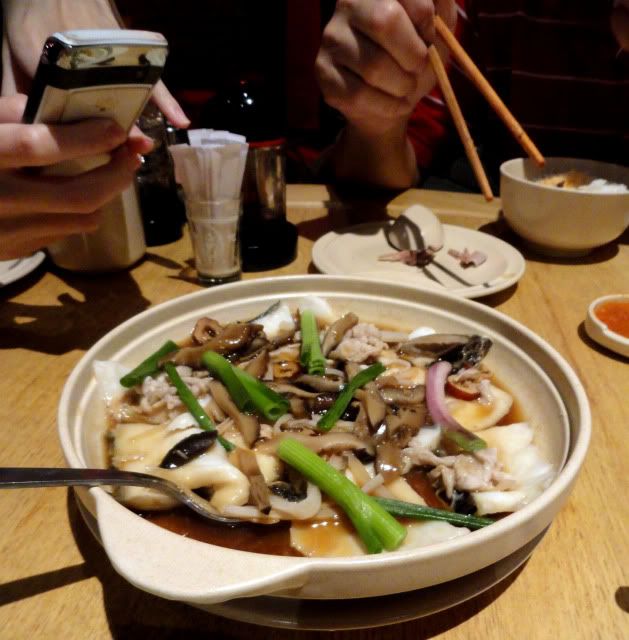 This is a funny photo, see the conflict? My dad's just hungry for the fish while he has to wait for me and my sister to finish photographing the dishes. Haha. This was a claypot of Old Style Steamed Fish Slices. It was a simple yet beautiful dish. The snakehead fish slices were well steamed with red dates, mushroom and spring onions in a savoury sauce that is not too salty. A well balanced dish with it's taste and nutrient value both earning a thumb up.
All in all, a pleasant and satisfying first time at Dian Xiao Er. I have to commend them for their extremely efficient service in serving up the dishes, it took less than 20-25 mins for all the dishes to be served up. Fast and efficient, well done.
Dian Xiao Er
Serangoon NEX
#02-09/10, 23 Serangoon Central, S556083
Tel: (65)6634 4828
Mon - Fri : 11.30am - 2.30pm (last order 2.30pm), 5.30pm - 10.00pm (last order 9.30pm)
Weekends and Public Holiday : 11.30am - 10.00pm (last order 9.30pm)