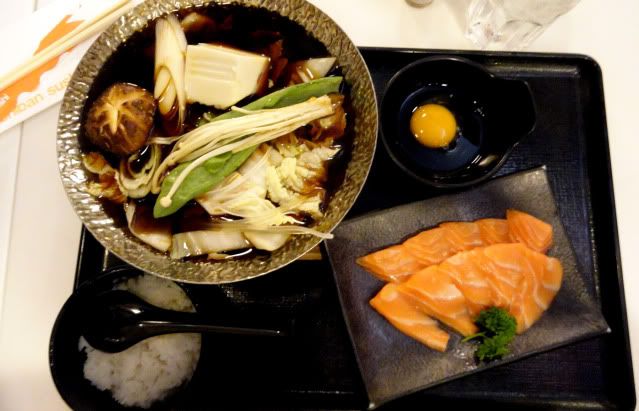 Ichiban Boshi's
Salmon Sukiyaki
is good. I recommend it.
I've visited Ichiban Boshi at Ang Mo Kio Hub for a number of times, but this is my 2nd review on its food so I've put part II. I had the
Don Don Gozen
the other time. Therefore, I decided to try something else and picked the
Salmon Sukiyak
.
I'm a salmon lover, so I don't know if my tastebuds are biased towards this. But what I do know, is that I've just discovered a new way to eat salmon. Eat it medium rare.
Yeah, you heard me. Medium rare; semi cooked and dipped into some raw egg. I loved it. It melted like warm butter in my mouth. It might not be the cheapest meal out there, but the salmon at Ichiban is fresh and thus worth paying for it.
Ichiban Boshi
53 Ang Mo Kio Avenue 3
#02-01 AMK Hub
Tel: (65) 6555-1617
Daily: 10.00am - 10.00pm
(Last Order: 9.30pm)