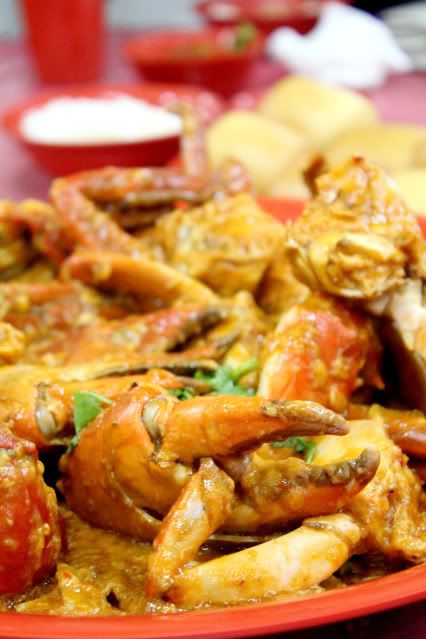 Chilli Crab
We celebrated Mothers' Day last Sunday with a dinner
again
. This time, however, it was with the extended family - my grandparents, uncle and aunties plus my cousins.
We ate at Wah Hoe Ban Leong Seafood Restaurant. This restaurant started out very small initially according to mom, and I could only vaguely remember eating there a few years back.
It is situated at the corner of a quiet stretch of shophouses and eateries at Causaurina Road, along Upper Thomson Road, but I never knew it would transform into a night time metropolis. The place comes to life with the simutaneous and inharmonious calls of orders, people chatting and new customers streaming at dinnertime. It was like rush hour, literally.
We sat at 2 different tables that night and ordered a number of dishes, the same for both tables except for the crabs. My table was served the chilli crab while the other table got the black pepper crab.
I didn't try the black pepper crab so I can only comment on the chilli one. The crabs' pincers were big and the photo you see above, there were 2 crabs = 4 pincers, great eh? But I was contended to eat only the body of the crabs- it is said to be the best part of the crab.
The crabs were good, judging from the firmness and sweetness of the flesh, they were of no doubt fresh. However, the chilli gravy, in my opinion, was too salty, which was quite disappointing. And of course, we ordered deep fried man tous to go with the chilli gravy. They were big, almost twice or thrice of Jumbo's. Will blog about Jumbo's food when I have the opportunity to eat there again- we just need an occasion!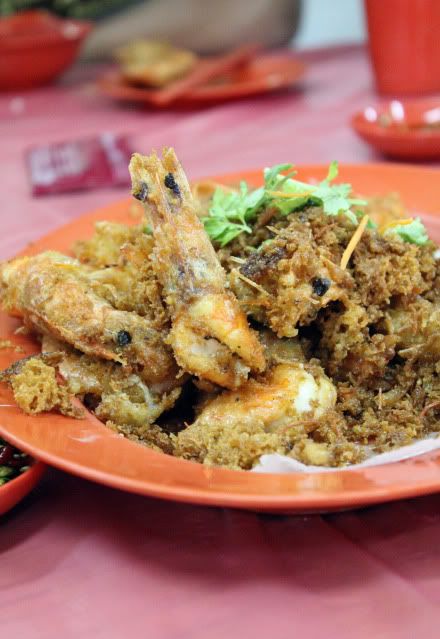 Their
Cereal Butter Prawns
were not very good. The prawns were fresh but they fail to bring out any buttery fragrance.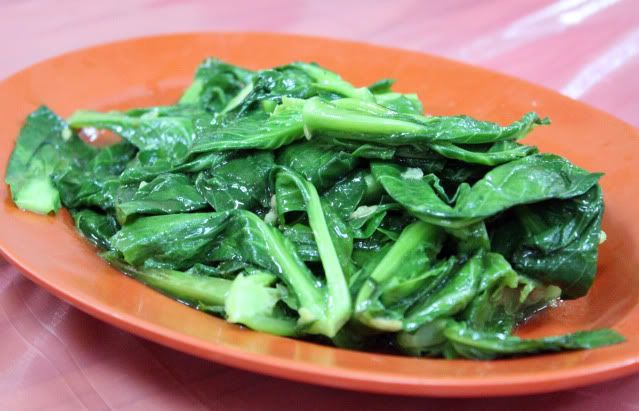 The
Stir-Fry Baby Kai Lan
was good, cruchy and a little savoury. Goes down well with some rice.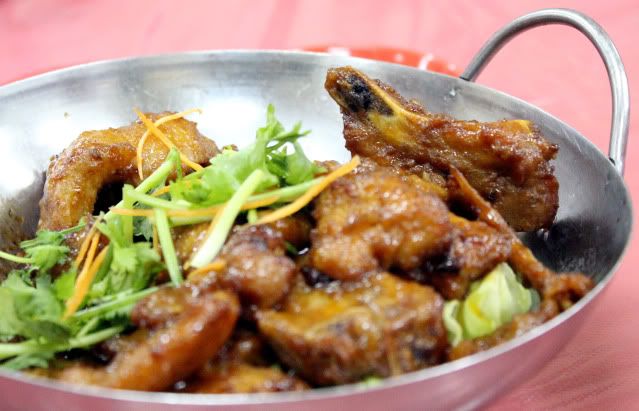 Don't know what type of pork ribs these are and I forgot how they tasted like, but I am pretty certain they were not bad in my recollection. They tasted a little sweet and savoury I think.
We had the
Hotplate Tofu
, which was sizzling hot and spicy. It was so-so, a typical tze char dish.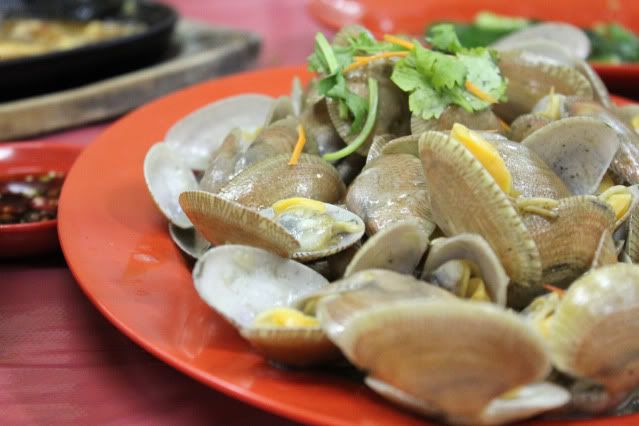 The
La La
was dead salty according to my family, but I couldn't really get any taste out of it. I could only taste a little bitterness and a sharp taste that I can't really quite describe.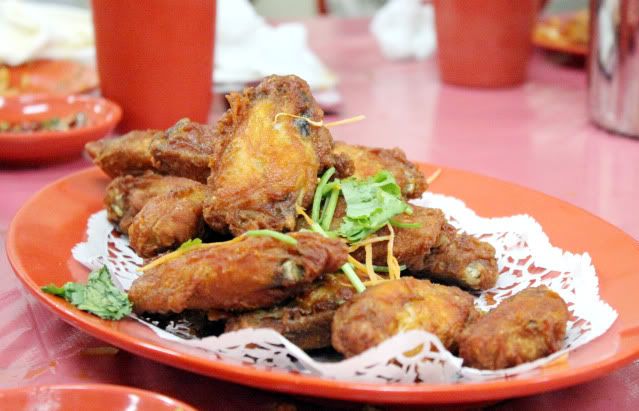 I have saved the best for the last. The Har Cheong Gai, I felt, was the star of the night. It was good, but not great. The chicken wings were coated with just the right amount of batter and deep fried till it's nice and crispy. However, the flavour of the prawn paste did not accentuate through the chicken, which greatly disappoints me. It would have been great for fried chicken wings, but I'm sorry, not for deep fried prawn paste chicken wings.

Ban Leong Wah Hoe Seafood

122 Casuarina Road
Singapore 579510
Tel: 64522824/64554013
4pm to 1.30am