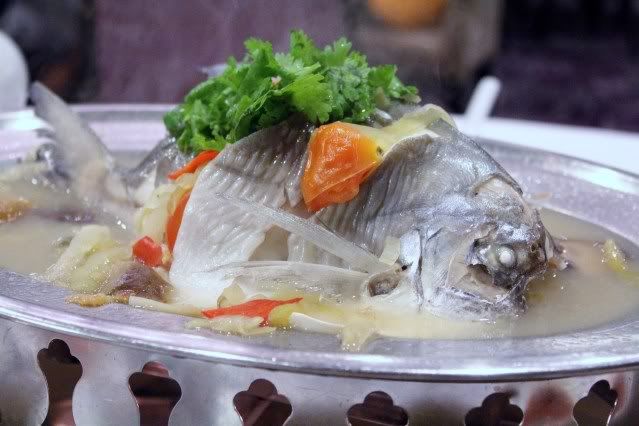 Teochew Steamed Pomfret
Mother's Day is a day where mothers are appreciated simply because they're unique and everyone would only have one. And therefore, Mother's Day is a day to celebrate, and what's better than to have a meal together?
Food brings people and joy together, it's true, I can vouch for it and I'm sure you would too.
My family usually celebrates special occasions -birthdays, Father's Day, Mother's Day- with a meal. Be it dining at a restaurant or over at my grandma's place where we'll have red eggs - symbolises good luck, roundness (as in complete happiness) and a sign of prosperity.
There was no exception this time round and my sister suggested that we celebrate in advance at the Teochew City Seafood Restaurant. We were there last Sunday and tried some of their teochew dishes.
As far as I know, teochews are pretty famous for their teochew-style steamed fish. Since we were at a teochew restaurant, how could we not try thier steamed fish? We ordered a steamed pomfret, teochew-style of course, with sour plums and salted vegetable. The fish was fresh and steamed just nice. The salted vegetable and sour plums definitely added flavour to the dish. It was a simple yet great dish.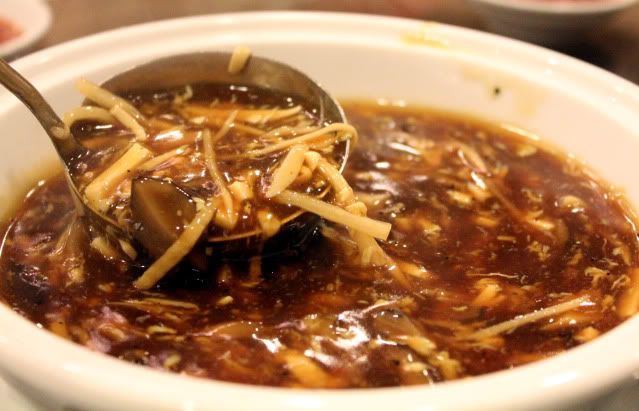 We ordered a
Hot and Spicy Soup
too. It wasn't exactly the watery soup kind of soup that we usually have but rather more like the taiwanese thick soup that have been thickened up with cornstarch or 'geng' as they call it. It was nothing special and tasted so-so.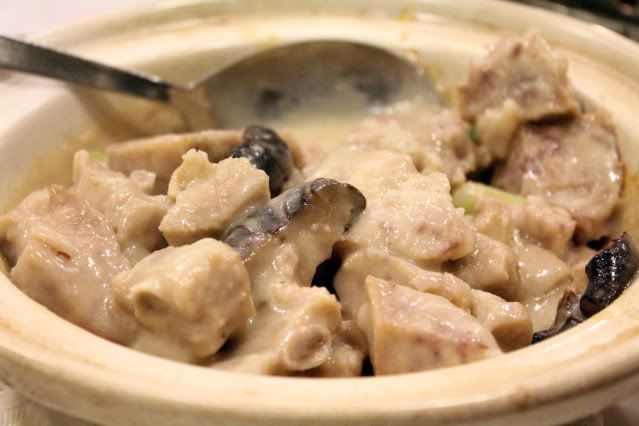 This is a dish that's worth recommending. The
Pork Rib with Yam in Claypot
is worth recommending.
There were pork ribs, yam and mushroom inside the claypot. The pork ribs and yam were the star of the night. The thick slices of yam were not overcooked till they were mushy and have lost their texture but rather they were soft and chewy. Similarly, the pork ribs were juicy and flavoursome not rubbery. It's definitely a dish worth ordering while you're there at the restaurant
.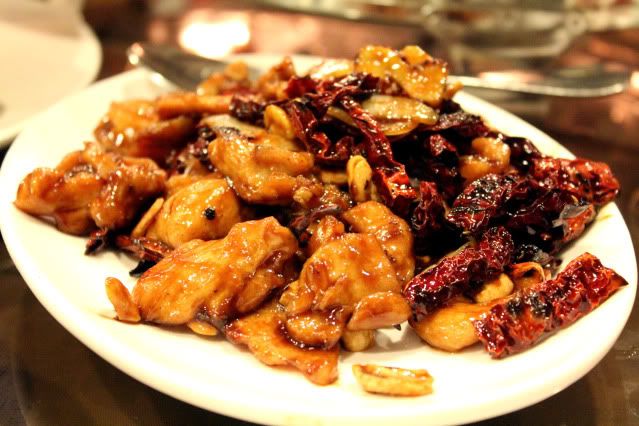 The
Sautéed Chicken Cube with Cashew Nut
or
Gong Bao Ji Ding
was good with tender pieces of chicken coupled with crunchy cashew nuts. The dish was only mildly hot not overpowered by the chillies.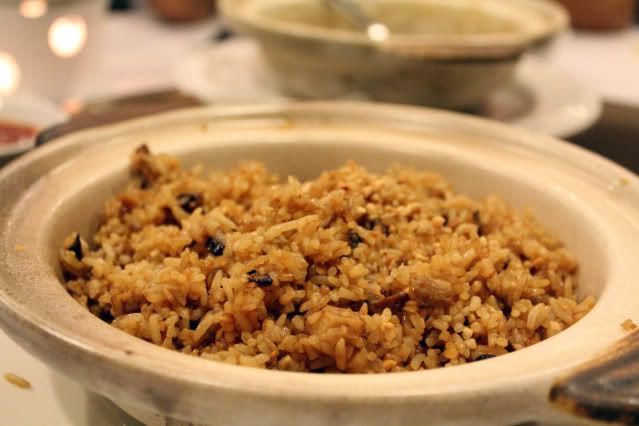 The
Teochew Claypot Rice with Yam and Salted Pork
wasn't very good. My sister commented that it was overwhelmed by the soya sauce's taste. While I thought it tasted like a non-sticky version of my aunt's glutinous rice, only less flavourful and i didn't even realise there was yam till I saw the menu.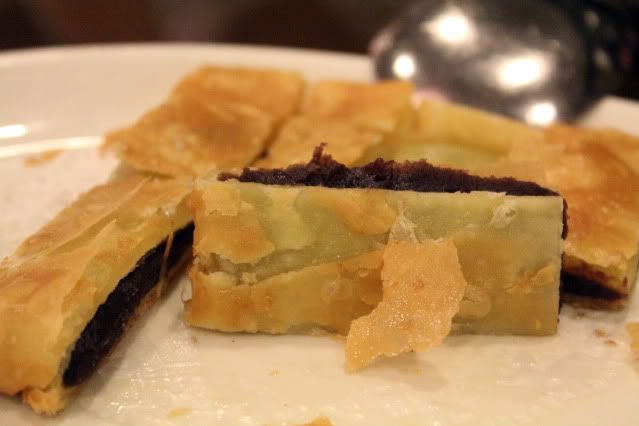 And, of course, we concluded our dinner on a sweet note. My dad actually ordered Orh Nee, a well loved Teochew dessert, but my brother suddenly had the craving for
Red Bean Pancakes
so we changed the order. Not sure if it was a special order because we just asked them if they had it and they said they have but I didn't find it on the menu.
Anyway, the pancakes' red bean filling tasted fine but the pastry outside it was too thick and hence the pancakes were a tad too oily and not as crispy as they should have been. Have tasted better ones elsewhere. This one, just lacked the oomph in it
.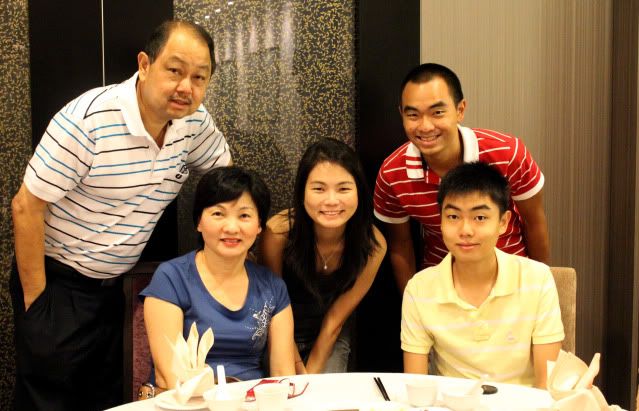 'Smile!'
Happy Mother's Day in advance to all the mothers out there, thank you for the love you have given us!

Teochew City Seafood Restaurant

176 Orchard Road
#05-16 Centrepoint
Singapore 238843

Tel: +65 6733 3338

Opening Hours
Lunch:
10:30am – 3:00pm (Weekdays)
10:30am – 3:30pm (Weekends & PH)
Dinner:
6:30pm – 10:30pm (Daily)