Don Don Gozen
Yes, you must have noticed, if you are a reader of my blog before this post, that I have revamped my blog with a new template, added a blog roll and organised my labels.
Somehow I felt Gustatory Explorer wasn't food blog-ish enough with the previous template and it wasn't very user friendly as well. So well, I changed it and I'm loving the new look, hope you do too!
Okay, back to the salmon sashimi don and unagi don set meal (Don Don Gozen) photo above. -points up- My sister had a $30 voucher that could be used any Ichiban Boshi outlets and so we went there to have lunch last Saturday with my mom and I.
I must confess, I forgot to take down the name of the dishes. So let's just name what we see in the photos shall we? A picture speaks a thousand words yes.
I had the salmon sashimi don and unagi don you see above (Don Don Gozen). It came with tempura soft shell crab, chawanmushi, watermelon and a bowl of miso soup.
The grilled unagi and egg made a great combination. The onions also added sweetness to the dish. I was half filled by the time i finished this.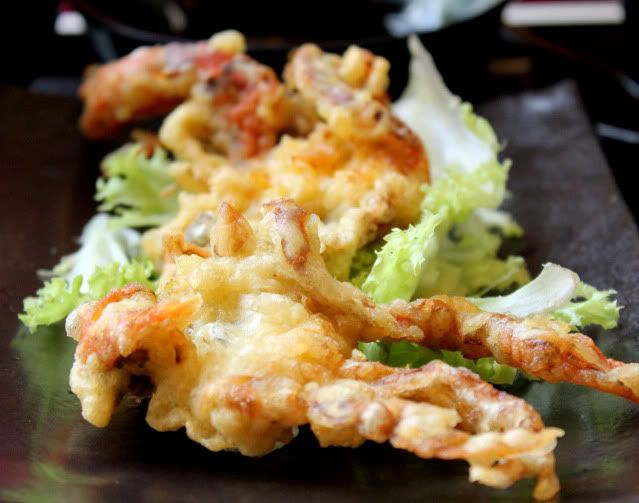 The soft shell crab was delicious as it was nicely fried with a thin coat of batter and it was not too oily.
The salmon sashimi slices in the don were fresh and good, but they added sliced red chilli on top to garnish the dish and there was a bowl of rice underneath so I couldn't really taste the salmon once they all came together. I was really filled by the time I finished this.
The set meal's value for money and I suggest 2 people can share this unless you're very hungry.
Before my order came, my sister ordered a tuna sushi. If you look carefully, the tuna were very slightly broiled with a blow torch on the surface. It was tasty with a hint of charred-ness.
We ordered fried salmon skin as well. It was kinda of a snack-side, great for anyone craving for something crispy and fried.
Mom ordered a deep fried chicken breast with ginger gravy/sauce. I had a piece of her chicken and I felt the chicken was a little tough, the ginger gravy compensated a little for it.
It was a really filling lunch with 2 bowls of rice, but Saturday's lunch was good.
Oh, one more thing. Patrons at Ichiban Sushi will get double the amount of reward stamps from now till the end of May because:
Ten major Japanese F&B groups in Singapore have set aside their rivalry and come together to help raise at least S$250,000 for the March Japanese earthquake and tsunami relief efforts. (click picture for bigger version).
They have launched a "Friends of Japan" privilege card (S$5) that will give 10% discounts and promotions for the month of May 2011. All proceeds will go to the Singapore Red Cross in aid of the Tsunami Disaster Relief 2011.
The collaboration involves over 35 brands and 100 restaurants across Singapore. They also applauded the Agri-food and Veterinary Authority (AVA)'s work in making sure all food imports from Japan are safe for consumption.
The "Friends of Japan" charity card is available at these outlets until May 15:
1) Bachmann Japanese Restaurant
a) Ajisen
b) Botejyu
c) Aoba Hokkaido Ramen
d) Kura Sapporo Ramen
e) Ajino Chanpon
f) Kazokutei
2) Creative Food Concept Pte Ltd
a) Tampopo
b) Tampopo Grand
c) Tarafuku
3) RE&S
a) Cz'zar Singapore inspired cuisine
b) Green Pumpkin Japanese Bakery Café
c) Ichiban Boshi Japanese Restaurant
d) Ichiban Sushi Japanese Restaurant
e) Kabe no Ana
f) Kuriya Penthouse
g) Kuriya Dining
h) Kuriya Fish Market
i) Men-ichi Japanese Ramen
j) Shimbashi Soba
k) Tontei Pork Restaurant
l) Yaki-Yaki Bo Teppanyaki Restaurant
m) Nakatsu Cabbage Yaki
n) Otsu Kushi Yaki
4) Suntory Food and Beverages International
a) Japanese Dining Sun
b) Sun with Moon Japanese Dining and Café
5) Tatsuya
6) Watami
(Taken from
Camemberu
)
This is great news for friends who love japanese food! Because now you can eat and help others at the same time. Please do help to support the people of Japan! Do note that the "Friends of Japan" charity card is available at these outlets
until May 15
.
Ichiban Boshi
53 Ang Mo Kio Avenue 3
#02-01 AMK Hub
Tel: (65) 6555-1617
Daily: 10.00am - 10.00pm
(Last Order: 9.30pm)
**Edited on 23 May - Found out the set meal that is value for money is called Don Don Gozen.